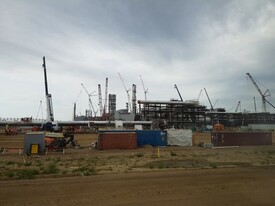 NCIA HITS THE ROAD
While summer is typically the season for road trips, NCIA opted to beat the rush earlier this month, organizing a bus tour for its members and a number of senior government representatives from Alberta Environment and Parks (AEP).
The collaborative adventure started at South Petroleum Plaza in Edmonton on June 8th when 17 people set off on a guided tour of Alberta's Heartland complete with stops at some of the region's signature industrial assets.
In just under an hour, the group reached their first destination of the day – the North West Redwater Partnership (NWRP) Refinery site in Sturgeon County.  Here, participants traded their mini-coach for a site bus which took them safely through the developing area. Throughout the ride, road trippers learned about various leading-edge environmental management initiatives that have been incorporated into Alberta's newest stand-alone refinery.
"We have carefully selected and invested in technology and processes that allows capture of 1.2 Million tonnes of CO2 per year, and that minimize the use of fresh water and maximize process water recycling," explains Doug Bertsch VP Regulatory & Stakeholder Affairs for the NWRP.  "Environmental sustainability and stewardship principles have underpinned this project from the outset and we are looking forward to setting an environmental gold standard that will inspire others around the world."
Next on the list was a visit to another NCIA member company where environmental performance is paramount.
Located in Strathcona County, near Fort Saskatchewan, Shell Scotford is home to an Upgrader, Chemical plant, Refinery as well as a Cogeneration plant. The combined footprint of these impressive facilities and their surrounds is comparable in size to downtown Calgary.