History of NCIA: Celebrating 40 Years in the Heartland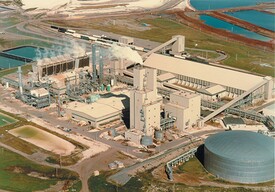 "Over the years, our members have continually demonstrated the power and benefits of collaboration. The progress we've been able to make as a group is far greater than what would have been possible working as individuals." – Laurie Danielson, Executive Director, NCIA
NCIA is built on the spirit of abundance. Since the beginning, we have lived by this belief—that "together we can do so much". As a collective, the Northeast Capital Industrial Association can stand back with our partners and member companies today, after four decades, and give testimony to what we have built together.

Since the incorporation of the Fort Saskatchewan Regional Industrial Association (FSRIA) in 1982, later renamed to NCIA, we have witnessed breaking ground in the region. We have seen many changes of ownership and the merging of corporations. Our members have proudly taken the global stage, leading the way with new technologies in oil and gas, manufacturing, agriculture and others.

As a facilitator and a collaborator, NCIA created a space where government and industry can discuss initiatives and decide on actions that are mutually beneficial. Through the creation of Alberta's Industrial Heartland, four municipalities are now aligned and united in a collaborative investment for our collective futures. The growth of business, industry and the building of safe communities where our families now reside are a result. Today, the Edmonton Metropolitan Region, which includes Alberta's Industrial Heartland, is home to more than 1.4 million people. Municipalities have been able to maintain autonomy and pursue the opportunities that matter most to them individually because of the community table around which we can gather.

Though our vision at NCIA has been far-reaching, we have kept our sights on what matters close to home. In 2001, we strengthened our mandate and long-term vision by renewing environmental priorities for the region. With our partners and stakeholders, we played a key role in helping to build accountability and set high stewardship standards for companies operating in the region, including:
The Regional Noise Management Model, a regulatory tool for managing industrial noise on a large scale and the first of its kind in the world
Air quality monitoring and reporting for residents through Fort Air Partnership
A collaborative approach to mutual aid and emergency notifications through NR CAER
Joint efforts with the Government of Alberta on a regional groundwater management project to protect the Beverly Channel Aquifer for future generations
The establishment of Alberta's Industrial Heartland as a Designated Industrial Zone
These are only a few examples of joint opportunities that have drastically impacted and advanced our region.

"We are all striving for continuous improvement," notes Danielson. "Be it through beneficial partnerships, facility upgrades or new ways of doing business, NCIA members are actively trying to reduce our environmental footprint in Alberta's Industrial Heartland."

Today, NCIA's 23 member companies range from large integrated global chemical and petro-chemical industries to smaller industrial service companies. Members directly employ approximately 8,500 people including long-term contract employees and turnaround contractors which creates an additional 30,000 indirect jobs for the region. This translates into a payroll of $850 million (direct jobs) and provincial tax revenues from NCIA employed persons of $85 million. Current industrial investment in manufacturing plants and infrastructure in the region exceed $43 billion. We expect that to grow by another $15 billion in the next 10 years.
"Our focus is on issues that impact the region along with opportunities for leadership," says Danielson. "This is about bringing together the people, skills, knowledge and resources to facilitate success."
For our 40-year milestone, we take a breath with our community members, a moment of reflection on where we have come from. There is much to celebrate.
NCIA is planning several initiatives and events to mark their 40th anniversary. Stay tuned for opportunities to get involved!